Whatever your age, it is essential that you take your personality and lifestyle into account. On the whole, as we get older, we need a bit more or slightly weightier fabric, to help camouflage the lumps and bumps that tend to come from nowhere, and we are better to incorporate trends, rather than do the whole look from top to toe!
I always think it is worthwhile considering the elements of clothing that you enjoyed wearing in the past. For example, I preferred the seventies more hippy styles with crochet, wild colour and wacky patterns. So, to my reckoning if your personality and shape hasn't changed that much, then the probability is that much of this fashion will still work. Just make sure that you aware of how the original fashion may have been a bit revamped. A good trick can be to look at how the youngsters are doing it, then remove at least one of the pieces. Most importantly your make-up should be bang up to date so that you don't look stuck in a time warp.
When I am "Personal Shopping" or " Wardrobe Weeding" what often comes up is the concern that ladies have of looking the same and not having enough variety in their repetoire. For sure you don't need ten pairs of black trousers, but remember that we do wake up and look the same! I have waited for the day when I wake up blonde and slim, but it hasn't happened yet! Therefore, it pays to understand what your assets really are and go with them! Classic has never done it for me, so why bother? If you are a girl, then be a girl! If you are sporty, you will probably find that high heel boots will work better than shoes. So you can alter your look, but always maintain what feels best.
Play up your best features in tops and bottoms that hug your curves in all the right places and camouflage the ones you don't like as much. With age our waistline tends to disappear a bit more, so it can be more important to find ways of creating the illusion of a waistline rather than opting for blazer styles, a shaped jacket will be more flattering.
Cover up unsightly flesh, but don't hide what may be your best asset, such as shapely legs or firm arms. Some older ladies are firmer and fitter than their younger counterparts! Invest in a few quality pieces that will run and run so make sure you really love these and play with a variety of accessories and - finally but essentially, spend money on lovely undergarments because these are more key than many ladies realise to making your wardrobe both flattering and stylish – hippy and braless will not work second time round!
My theory is that looking like mutton dressed as lamb is more exciting that mutton looking like mutton, where's the challenge and excitement in that??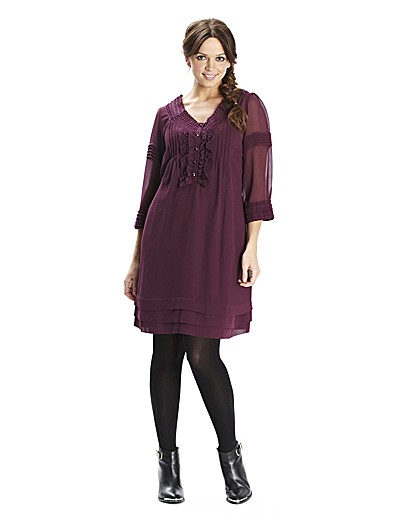 isme
phase eight
Shades of purple should feature in all wardrobes, you don't need to be any particular age, but if you still fee sure you are past trying...read on!!
When I am an old woman I shall wear purple
With a red hat which doesn't go, and doesn't suit me.And I shall spend my pension on brandy and summer gloves
And satin sandals, and say we've no money for butter.
I shall sit down on the pavement when I'm tired
And gobble up samples in shops and press alarm bells
And run my stick along the public railings
And make up for the sobriety of my youth.
I shall go out in my slippers in the rain
And pick the flowers in other peoples' gardens
And learn to spit.
You can wear terrible shirts and grow more fat
And eat three pounds of sausages at a go
Or only bread and pickles for a week
And hoard pens and pencils and beermats and things in boxes.
But now we must have clothes that keep us dry
And pay our rent and not swear in the street
And set a good example for the children.
We must have friends to dinner and read the papers.
But maybe I ought to practice a little now?
So people who know me are not too shocked and surprised
When suddenly I am old, and start to wear purple.

by Jenny Joseph
A red hat that will suit from Holly Young Hats!